How can I push a listing from Allhomes to Domain and other websites?
---
We'll show you how to push an individual listing from the My Agency section of Agent Portal.
If you'd like to set up a listings feed for all listings from Allhomes to other websites, click the Support icon to contact Domain Group Support and we'll help you set that up.
Note:
Team members with Office Manager access will be able to push any listing. Agents will only be able to push their own listings.
If your listings have not appeared on other websites you will need to go into each listing and make sure listings have been pushed to the various websites.
Click My Agency if you have Office Manager access or My Sales if you are an agent.
From the Agent List, click on the Sales or Rentals link to find listings.
In the right column click Edit to open the listing.
From the side-menu click Push to Website.
Check the status of the listing to see if the listing has been successful. If the listing has been successfully pushed to a website it will have a time and date.
Click Push to Website or Re-push to Website.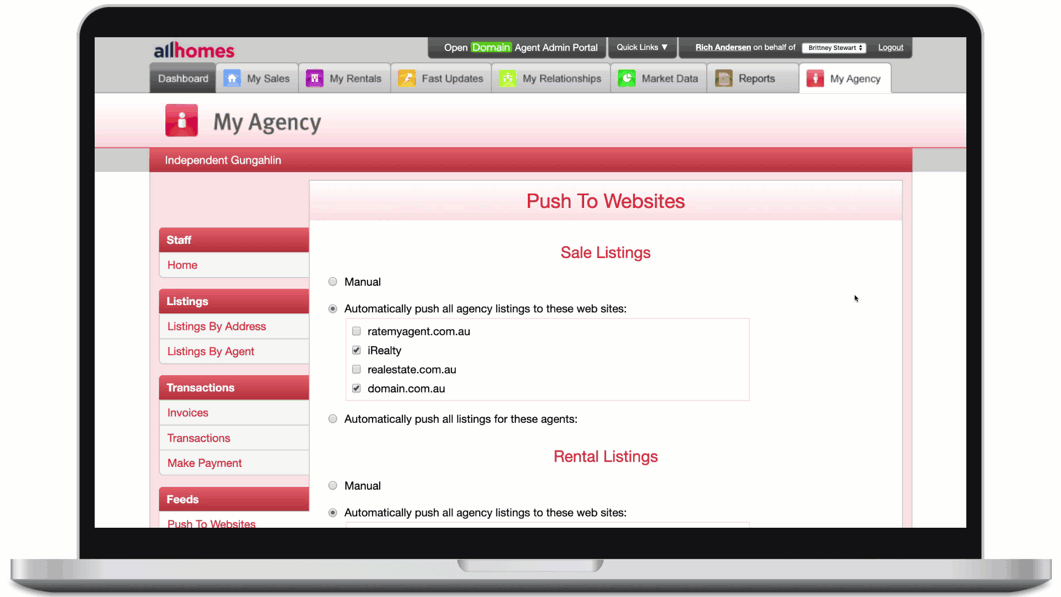 Congratulations!
You have now updated your setting to push listings to other wesites.