How can I add or edit agent & staff members manually on Agent Portal
---
You can add or update staff members by logging in to Agent Portal and clicking My Agency.
We'll show you how to:
Add agents
Add new staff members
Make changes to existing staff members using Allhomes Agent Portal.
Only follow these steps if you are NOT USING A LISTING CRM. If you use a listing CRM system adding or editing staff members details must be done via your CRM system.
Note:
You must have "Office Manager" access to add or edit staff members.

Log in to Agent Portal and click My Agency.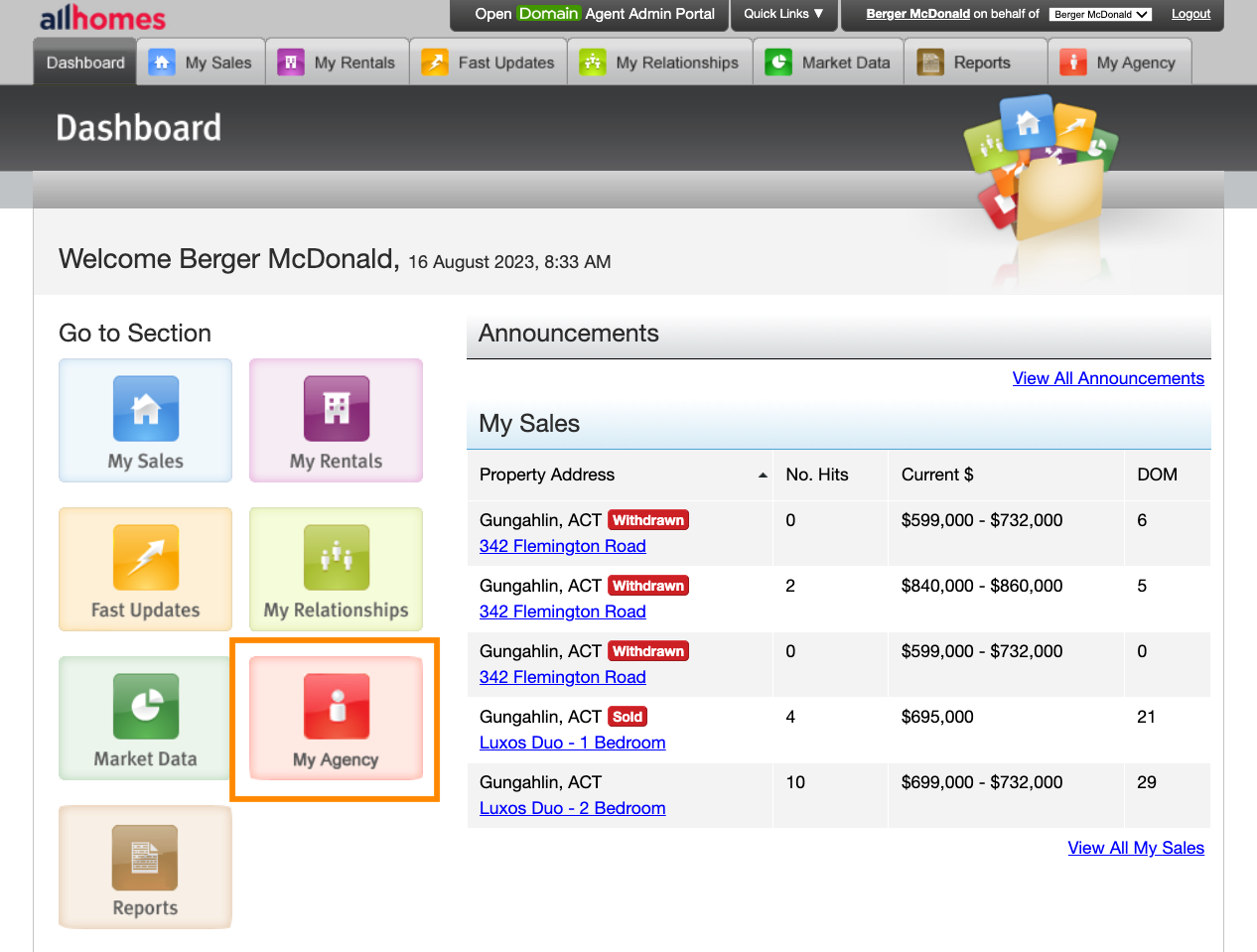 ---
I want to add a new staff member
Click Create Staff Member.




Enter your new team members details.

Enter their email address as their Username.

Other Emails can contain multiple emails addresses separated by a semicolon. Eg: sales@agency.com.au;principal@agency.com.au

Enter a password.





Select their Permissions and click Save.



Clicking Save will add the new staff member to your Current Staff list.



When the agent logs in for the first time they will be prompted to change their password. Enter a new password then click Save.





Once they have changed/reset the password their navigation tabs will appear along with a link to 'proceed to the dashboard' which will take them to Agent Portal home page.





Follow the steps below to complete the agents profile and upload your team members photo.
I want to edit an existing staff member
Click on the name of the staff member you wish to edit.





Update your team members details and click Save at the bottom.

You will see the Edit Staff section on the left. Navigate through these tabs to add or update your team members profile, photo and other elements.


And SAVE
Don't forget to click Save once you have made any edits you wish to save.